Varsity Rowing Team

ABOUT THE TEAM
Kings Point Varsity Rowing offers a challenging program of fall head-style racing and spring sprint competition. The team competes in both sculling and sweep competitions, with men and women's novice, lightweight, and open-eight crews.
The Rowing team has consistently represented the program at the highest caliber of events. These include the prestigious Head of the Charles and the Dad Vail National Championship.
The Rowing program actively recruits top talent around the country. Please fill out coaching staff below, if you are interested in being recruited to the program.

 
2023 SPRING SCHEDULE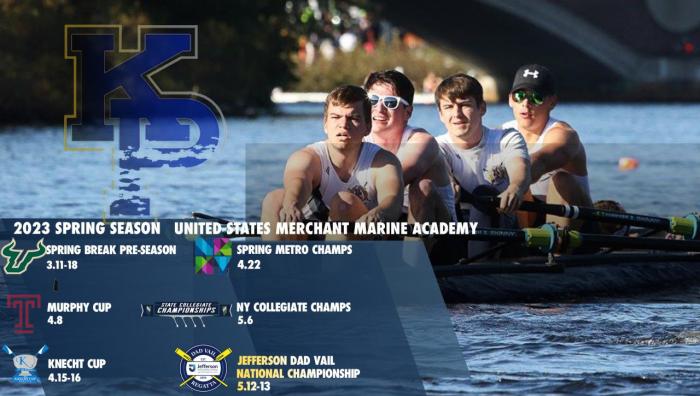 2022-2023 ROSTER
| | | | |
| --- | --- | --- | --- |
| LAST | FIRST | CLASS | HOMETOWN |
| AUSTIN | Victoria | 2023 | Game Creek, AL |
| CLARK | Amelia | 2023 | New Cumberland, PA |
| EDELMAN | Abigail | 2023 | Windham, CT |
| FORTIN | Morgan | 2023 | Albuquerque, NM |
| HONE | Hyrum | 2023 | Garland, TX |
| MARGOT | Ethan | 2023 | Rockford, MI |
| NISSEN | Lauralynne | 2023 | Mora, MN |
| ROSE | Grace | 2023 | Totowa, NJ |
| WILLIAMS | Matthew | 2023 | Orlando, FL |
| DIETRICH | Adam | 2024 | McLean, VA |
| GASCA | Ashley | 2024 | Pasadena, MD |
| GRABER | Terah | 2024 | Wichita, KS |
| JOHNSON | Evan | 2024 | Austin, TX |
| JOHNSON | Trevor | 2024 | Silverton, OR |
| OGBURN | Noah | 2024 | Melbourne, FL |
| SWART | Allessandra | 2024 | Spring Lake, NJ |
| ARENA | Luke | 2025 | Bedford, NY |
| DISRAELI | Daniel | 2025 | Fort Worth, TX |
| HOLLORAN | Cade | 2025 | Severna Park, MD |
| KRUEGER | Karl | 2025 | Parker, CO |
| LERUDIS | Kara | 2025 | Littleton, CO |
| PEARCE | Peyson | 2025 | Signal Mountain, TN |
| TIRRELL | Sophie | 2025 | Foster, RI |
| VILLARREAL | Gabriela | 2025 | Fort Benning, GA |
| CHIMM | Jennifer | 2026 | Derby, KS |
| ELLIS | Charles | 2026 | Long Beach, CA |
| O'ROURKE | Brendan | 2026 | Chadds Ford, PA |
| ROLL | Perry | 2026 | Fairfax, VA |
| YASHCHYSHYN | Pavlo | 2026 | Smithtown, NY |
COACHING STAFF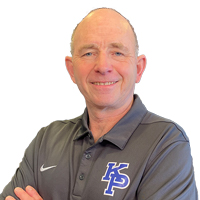 DEREK HARTWICK
Head Rowing Coach
HartwickD@usmma.edu
O: (516) 726-6038
C: (908) 917-0509
Hartwick took leadership of the program in 2004. For nearly 18 years, Hartwick has built the foundation of Kings Point Rowing. Under Hartwick, the program has secured 8 Knecht Cup Titles, 10 New York Metropolitan Championship Titles, 3 Dad Vail Championship Podiums, and highlighted by a prestigious Head of the Charles Title. In 2022 Hartwick led Kings Point to an undefeated season in the Men's Pairs, culminating with a Dad Vail National Championship Title. 
In addition to his time at Kings Point, Hartwick has years of Olympic, collegiate, and national club level experience. As the United States Women's Olympic Team Assistant Coach, Hartwick led the team to a Gold and Silver Medal at the 1992 World Cup Regatta in Lucerne, Switzerland, 1992 U.S. National Championship Title, and a Head of the Charles Regatta Title. Before joining the US National Program, Hartwick was an Assistant/Development Coach with the Canadian National Rowing Team, resulting in a Gold at the 1990 U.S. National Championship. This was paired with a Silver Medal at the 1990 Canadian National Championship and Gold at the Canadian Henley Regatta.
As coach of Kennebecasis Rowing Club in St. John's, New Brunswick, Hartwick led the program to a Canadian National Team Trials victory, and the right to represent Canada and the 1987 Pan American Games. Additionally, Hartwick has worked with with numerous colleges including University of Massachusetts at Lowell, University of Western Ontario, and Upper Canada College.
Hartwick learned to row in his hometown of St. Catherine's, Ontario. Hartwick attended the University of Western Ontario (UWO), where he was a 3-sport athlete; Rowing, Track, and Cross Country and later went on to coach the Novice and Lightweight Rowing Team. While at UWO, his crew won both the Canadian and Provincial University Championship, as well as a Silver Medal at the 1983 Dad Vail Championship. Hartwick went on to become a 7-time Canadian Rowing Champion, and an 8-time Ontario Provincial Champion.
Recently, Hartwick initiated the Rowing on the Raritan Project. This project is a collaborative effort of the Lower Raritan Watershed Partnership (LWRP), the City of New Brunswick, and Middlesex County, to build a community with a shared interest of sustainable recreation on the Raritan River.
Hartwick earned a B.A. in Physical Education with a concentration in Sports Coaching from the University of Western Ontario in 1984
Hartwick lives in Highland Park, NJ, with his wife Debra, and two sons, Noah and Benjamin.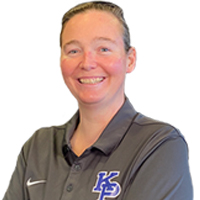 Kleinhans joined Kings Point at the start of the 2019 season as the Assistant Rowing Coach. Since her arrival, Kleinhans has revolutionized the program here at the Academy. Kleinhans, alongside Head Rowing Coach Derek Hartwick, have led the team to numerous top finishes including a 2020 win over Coast Guard Academy in the Men's Novice 4+. This is paired with an impressive 3rd place result in the Men's Collegiate 2x and a 4th place finish in the Women's Freshman/Novice Heavyweight 8+ at the 2021 Dad Vail Championship. In 2022 Kleinhans led Kings Point to an undefeated season in the Men's Pairs, culminating with a Dad Vail National Championship Title. 
Kleinhans brings a tremendous amount of collegiate and national club level coaching experience to the program. Before Kings Point, Kleinhans was the Youth Program Director at Row New York Manhattan. During her tenue, she led the team to their first National Championship appearance in program history. Kleinhans has been a part of designated national team development clubs such as Penn AC Rowing Association, where she secured a National Championship Title in the Women's Intermediate Lightweight 4+, as well as the Indianapolis Rowing Center, and the Great Miami Rowing Center. 
Originally from New York, NY, Kleinhans attended the University of New Hampshire, then the University of Cincinnati, where she had standout careers as a Division I scholarship athlete.
Kleinhans currently serves on the Advisory Board for the University of Cincinnati Rowing Alumni and Friends.
Kleinhans earned her Masters of Science in Exercise and Sports Studies from Smith College in 2016, while also serving as an assistant coach for their Varsity Rowing program.
Kleinhans resides in Westchester County, NY, with her wife Michelle and dog Baxter.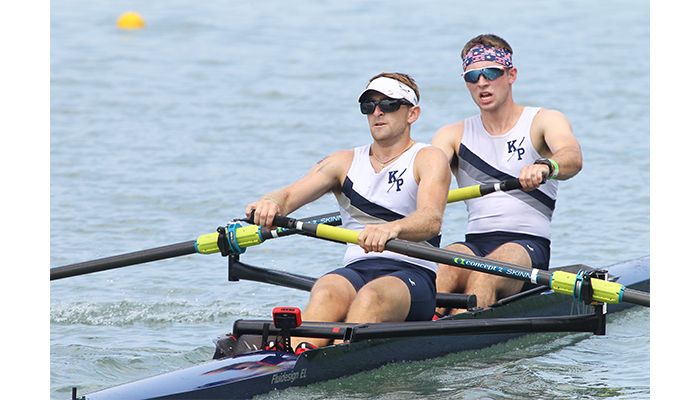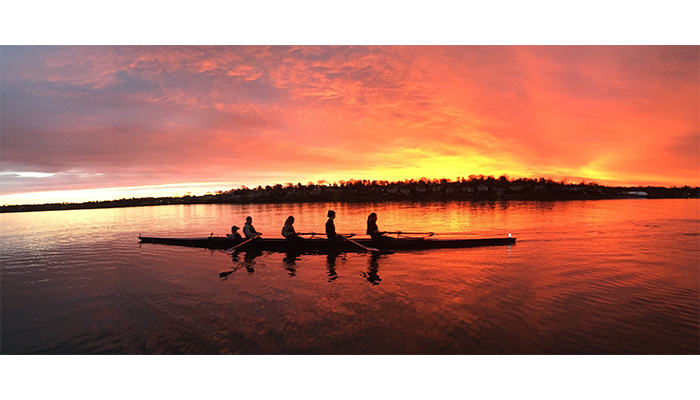 Last updated: Tuesday, March 7, 2023