Varsity Dinghy Sailing Team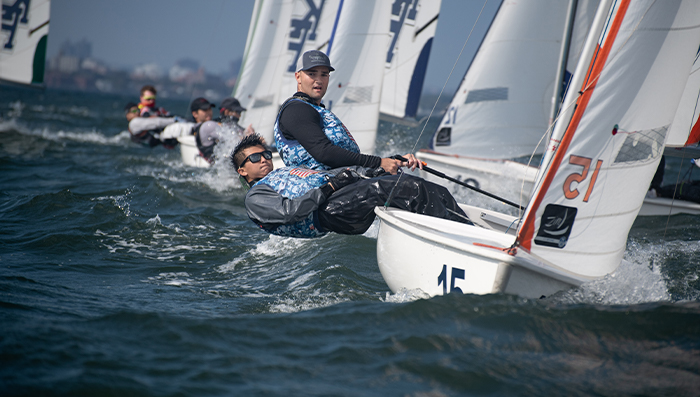 ABOUT THE TEAM
The Varsity Dinghy Sailing Team is the most decorated varsity team at the Academy, and has secured itself as one of the most storied programs in the sport. With 17 National Championship Titles, 56 All-Americans, and 6 College Sailors of the Year, the Kings Point Sailing Program is one of the epicenters for greatness in college sailing.
Kings Point is a member of the Middle Atlantic Intercollegiate Sailing Association (MAISA). MAISA covers the area between New York State and Virginia and includes the District of Columbia and parts of Canada.  
The program competes against colleges and universities throughout the United States, and consistently ranks in Top-25 National Rankings. The program actively recruits the top-ranked prospects in the nation, and internationally. Please fill out our Recruit Questionnaire, or reach out to Coach McBrien and Coach Feeney (contact below) if you have interest in becoming a part of the program.
2023 FALL SCHEDULE
2023-2024 ROSTER
| Last Name | First Name | Class | Hometown |
| --- | --- | --- | --- |
| BOYD | Ellary | 2024 | Custer, WA |
| CHO | Marshall | 2024 | Winchester, VA |
| OSELL | Lars | 2024 | Green Bay, WI/Sarasota, FL |
| REDMOND | Ruby | 2024 | North Wildwood, NJ |
| YORK | Patrick | 2024 | Sewell, NJ |
| ALINO | Rey Jacob | 2025 | Attalla, AL |
| BURNS | Michael | 2025 | Pass Christian, MI |
| WEINBECKER | William | 2025 | Jacksonville, FL |
| DIXON | Andrew | 2026 | Kings Point, NY |
| LAWRENCE | Charlie | 2026 | Jacksonville, FL |
| McMICHAEL | Caelan | 2026 | Philadelphia, PA  |
| DOWNING | Jackson | 2027 | Ft. Lauderdale, FL |
| FINORA | Robert | 2027 |   |
| GILROY | Oscar | 2027 |   |
| MASON | Katherine | 2027 |   |
| McALLISTER | Reed | 2027 |   |
| MOBLEY | Garner | 2027 |   |
| SHEAHAN_NGUYEN | Brianna | 2027 |   |
| SMITH | Fordham  | 2027 | Charleston, SC |
| VANDERHORST | Annika | 2027 | Cleveland, OH |
| VANDERHORST | Jack | 2027 | Cleveland, OH |
| WALTON | Aubrey | 2027 |   |
COACHING STAFF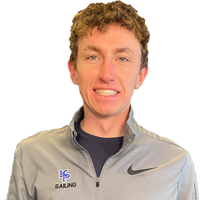 MICHAEL McBRIEN
Head Intercollegiate Dinghy Coach
McBrienM@usmma.edu
O: (516) 726-6034
C: (631) 560-9416 
McBrien joined Kings Point in 2019 as the Head Dinghy Coach. Since then, he has led the program to several successful milestones, including a 2021 MAISA North Conference Championship, as well as 3 National Championship Appearances, including 4 Top-10 National Championship finishes
Originally from East Patchogue, Long Island, McBrien attended Roger Williams University. Here he was a 2-Time All-American, 2-Time Academic All-American, in addition to being named to the All-New England Team. McBrien was apart of one of the most dominate runs in program history, leading his team to a #1 National Ranking in 2018. This culminated in a 2nd place at the 2018 Team Race National Championship, and a 6th place finish at the 2018 Fleet Race National Championship.
In addition to his collegiate career, McBrien won the 2019 Team Race World Championship, securing the trophy for the United States for the first time in 9 years.
McBrien earned his Bachelors of Science in Biology, with minors in Mathematics and Philosophy from Roger Williams University in 2018.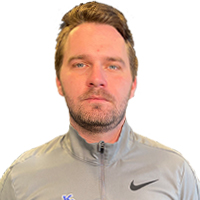 BRENDAN FEENEY
Asst. Director of External Relations
Asst. Intercollegiate Dinghy Coach
FeeneyB@usmma.edu
O: (516) 726-6033
C: (904) 383-0103
Feeney came to the program fall of 2020. Here he joined McBrien to facilitate the rebuilding of one of the most storied programs in college sailing. Since joining, Feeney has helped lead the team to a 2021 MAISA North Conference Championship, as well as 2 National Championship Appearances.
Prior to joining Kings Point, Feeney was Assistant Coach at Eckerd College, in St. Petersburg, FL. Here he had a successful year leading the Tritons to a 2019 Conference Championship, and a National Championship appearance. 
Originally from Jacksonville, FL, Feeney attended University of South Florida, where he had a standout career, securing back-to-back Keelboat National Championship Titles in 2016 and 2017. He also had a pair of top-five finishes at the ICSA Match Race National Championships in 2016 and 2017, while competing in the ICSA Gill Coed National Championships in three straight years from 2016-2018, securing a program best 9th place finish in 2016. Feeney was a 2-Time Academic All-American Nominee. 

In addition to his collegiate career, Feeney represented the United States Sailing Team in the 2016 Western Hemisphere Championship in Cabo Frio, Brazil, as well as a 4th at the 2016 North American Championship. 
Feeney earned his Bachelors of Science in Finance from the University of South Florida in 2018.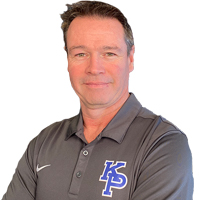 RICK DOMINIQUE
Director of Varsity Programs
DominiqueR@usmma.edu
O: (516) 726-6033
Dominique joined Kings Point in 1999, as the Director of Offshore Sailing. Since then, Dominique has been at the forefront of all Waterfront Athletics here at the Academy. During Dominique tenure, Kings Point has secured multiple National Championship Titles, numerous Conference Championship Titles, while fostering countless All-American Selections.
Appointed as the Director of Varsity Programs in 2008, Dominique facilitated the building of all 3 Varsity Waterfront Programs. During this time, Dominique has complimented the recruitment and hiring of waterfront coaches. Dominique has also developed and led learn to sail programs and classes for Midshipman to become more involved with the Waterfront. 
Dominique had a standout college sailing career at SUNY Maritime College, which led into a 1996 Atlanta Olympic Campaign. Dominique has represented the United States at 5 World Championships in the J80 and Sonar. Dominique's offshore resume is held second to none, with 14 Around Block Island Races, 12 Vineyard Races, and 17 Around Long Island Races. This is paired with Transatlantic crossings, and numerous Newport-Bermuda Races.
Along with his passion for Waterfront Athletics, Dominique is the Head Coach for the USMMA Hockey Team. 
Dominique earned his Bachelors of Science in Marine Transportation from SUNY Maritime College in 1993.
Dominique now resides in Westbury, NY with his wife Tracy, and two children Jamie and Marissa.
Last updated: Wednesday, November 1, 2023