Sea Year
This phrase has inspired generations of U.S. Merchant Marine Academy midshipmen. It has taken them across the world's oceans to exciting foreign ports, and in the process, provided them with unique practical training, with an opportunity to learn more about themselves, and with plenty of adventure.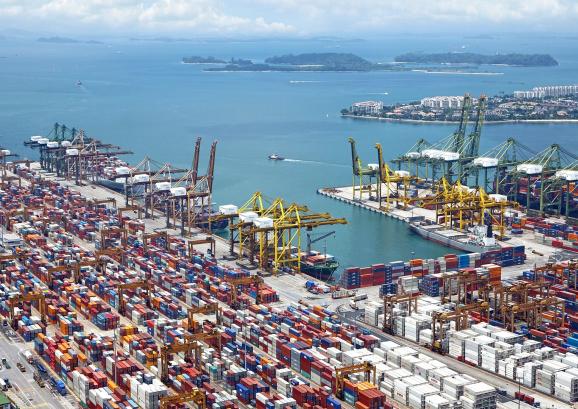 Your Defining Moment
There's no better way of learning than by doing. That's what sea year is all about. You'll work at everything from cargo loading and navigation to engine repair and ship maintenance. You'll heed the advice given to every midshipman embarking on sea year: "Keep your eyes and ears open."
Why is sea year so important? Because, for most midshipmen, it's their first real opportunity for self-reliance. At sea, you'll balance your time between shipboard tasks and your sea project. You'll develop self-discipline and self-confidence. You'll practice human relations skills as you work both with the ship's officers and crew. You'll observe different and exotic cultures as you travel from port to port.
As you walk up the gangway of your first ship, sea bag over your shoulder, you'll join the ranks of thousands of Kings Pointers who credit Sea Year as the foundation of their successful professional careers.
For them, it was their defining moment. Make it yours too.
The World is Our Campus
All this comes from the Academy's "Sea Year" - actually a period in both your sophomore and junior years when you and a classmate are assigned to a variety of operating U.S. - flag merchant vessels to transverse the trade routes of the Seven Seas.
During Sea Year, you'll experience firsthand the life of a merchant mariner. You'll put your classroom knowledge to the test in a real-life environment - all this while visiting an average of 18 foreign countries!
Sea Year is a part of the fabric of Kings Point, dating back to 1942. Over the decades, midshipmen have engaged in peacetime commerce, have transported military supplies to the Persian Gulf and to Kosovo, and have been part of humanitarian missions to Haiti and Somalia.
Sea Year is true life experience. It indeed makes the world your campus!
13:1
Student-to-Faculty Ratio
40+
Registered Student Organizations