Athletic-Club Sports
Bowling Club – Provides midshipmen with the opportunity to go bowling and learn the sport.
Brazilian Jiu-Jitsu Club – Geared toward helping students gain respect, discipline, and confidence through the Martial Arts.
Cycling/Triathlon Club – Founded upon physical fitness, team bonding, and leadership via cycling, triathlon and having fun.
Endurance Club (KPEC) – A club for worldwide prudent mariners who also happen to be endurance athletes.
Golf Club – A group of talented co-ed golfers that play on some of the best golf courses on Long Island.
Grappling Club – Provides an opportunity to enhance the physical and mental skills associated with wrestling.
Handball – Recreational team designated to enable midshipmen to enjoy the friendly competition of handball in and around the New York City Area.
Indoor Soccer - Provides indoor soccer league play as well as pick-up outdoor matches for midshipmen.
Pistol Club – Practices and competes in the National Rifle Association's Intercollegiate Pistol competition.
Rugby Football Club (MEN) – Competitive rugby club that competes in the empire conference at the Division I-AA Level open to all regardless of experience level. Click here to visit their website.
Rugby Club (WOMEN) - Interest group focused on learning the sport.
Ski and Snowboard Club - A club for skiers and snowboarders of all ability levels to come out and shred the slopes.
Softball Club – Plays recreational softball through charity games and pick-up games.
Volleyball Club - The Volleyball Club team is a co-ed organization committed to competitive volleyball and having fun. The group is part of the Eastern Collegiate Volleyball Association.
Water Polo – Water Polo Club Team which competes regionally.
Weightlifting Club – Competitive Olympic weightlifting club for lifters of all levels of experience and background.
Membership in all United States Merchant Marine Academy Club must be open to all persons without regard to race, color, religion, national origin, sex, disability, veteran status, sexual orientation, or age. Clubs abide by all federal, state and local laws and to the United States Merchant Marine Academy mission and its policies and procedures. All clubs refrain from engaging in any action or situation which recklessly or intentionally endangers the mental or physical health of another or the forced consumption of alcoholic beverages or drugs for the purpose of initiation into or affiliation with the group.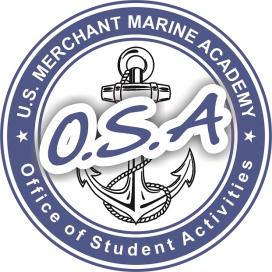 Last updated: Monday, April 18, 2016