USMMA Midshipmen Debate the Ethics of Public Discourse at National Conference
KINGS POINT, N.Y., April 21, 2016 – A team of eight U.S. Merchant Marine Academy midshipman represented the Academy at the "National Conference on Ethics in America" at the U.S. Military Academy earlier this month, joining 137 students representing 41 colleges, academies, and universities from all over the country.
This year's theme was "The Ethics of Public Discourse." The goal of the conference was to gather together student leaders from universities around the country, and nurture their growth in ethical public discourse, as well as develop ideas for creating and fostering a civil environment in which issues facing the United States today are discussed and debated. The conference sought to accomplish this by using a combination of guest speakers, small group exercises, and small group discussions.
The keynote speakers were a diverse group of people who openly shared their experiences with stressful situations and disagreeable people. They spoke about overcoming adversity, building character, and dealing with hardship. The students' favorite conference speakers were Scotty Smiley and Sage Steele.
Scotty Smiley was a West Point graduate, former Ranger, and Combat-diver qualified infantryman. He became the first blind active-duty officer. In 2005, Scotty lost both eyes when a suicide car bomber blew himself up just 30 meters in front of Scotty's vehicle. Since then, he has surfed in Hawaii, skied in Vail, climbed Mount Rainier, completed a triathlon, and earned an MBA and Ph.D. In 2007 he was named the Army Times "Soldier of the Year." In 2008 he won an ESPY as the world's Best Outdoor Athlete. At the conference, Scotty focused on overcoming adversity and forgiveness.
Sage Steele is one of ESPN's most popular and versatile commentators. She is the host of NBA Countdown and ABC's and ESPN's NBA pre-game show. Sage spoke of her personal experiences and challenges of becoming a successful woman commentator in the 'men's world of sports.' She emphasized the importance of building a professional brand of character. Sage advised that the way one overcomes adversity is by focusing on what you can control, respecting others, and not becoming a victim of your circumstances.
All the speakers were well-received by the students, but they accounted for only a small portion of the conference. The students spent the majority of the two days in small groups discussing and debating current issues, or considering and formulating appropriate responses to pressure situations. For example, the groups found themselves in the place of an Army officer engaging in civil discourse with Iraqi leaders. The groups later developed techniques and guidelines for conducting public, beneficial conversations on important controversial topics.
Finally, each group proceeded to debate forty of the most contentious economic and social topics of today. The issues discussed included drone strikes, Syrian refugees, gun laws, Black Lives Matter, affirmative action, religious discrimination, raising the minimum wage, and "safe zones" on college campuses to name a few. At the end the debate, each group presented their findings to the entire conference. Midshipmen 2nd Class Matthew J. Miller and Peter Barrow represented their respective group when presenting their group's conclusion to the entire conference.  
All the representatives from USMMA felt that the conference was extremely beneficial. Miller stated, "This conference contributed considerably to my character development and taught me many skills and provided me with numerous tools which will be of great benefit to me not only during my remaining time at USMMA but in my future professional career."
 By Midshipman 2nd Class Matthew J. Miller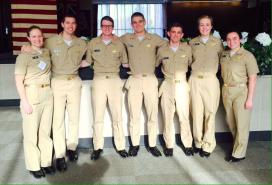 MIDN 3/C Sheridan Jones, MIDN 2/C Matthew Miller, MIDN 2/C Peter Borrow, MIDN 3/C Tyler Castleman, MIDN 2/C David Ossing, MIDN 2/C Julie Mall, and MIDN 2/C Catherine Don at the "National Conference on Ethics in America" at the U.S. Military Academy
Last updated: Thursday, April 21, 2016