Prospective Class of 2020 Plebe Candidates and Guests Learn about USMMA at Open House
KINGS POINT, N.Y., April 26, 2016 – The United States Merchant Marine Academy's (USMMA) Admissions Team welcomed over 200 prospective Class of 2020 Plebe Candidates, family members and guest to the Academy's Open House at Kings Point, N.Y., earlier this month.
Superintendent Rear Adm. James A. Helis, USMS, welcomed the participants who then heard about the Academy from the Commandant, Athletic Director, the Director of Academic Center for Excellence.  Next, at tables set up in O'Hara Hall, guests had the opportunity to meet with representatives from every Academy department, USMMA Alumni Association and Foundation, Inc., USMMA National Parents Associations and Navy Exchange.
Nicholas Rachowicz the Director of Student Activities provided music and showed a video on a loop with highlights of the last year.  He said, "this is the opportunity to show off how great we are.  We need to tell everyone why we are the best choice."
Joe Gramegna, who attended with his parents, said, "the Open House experience was a very positive one for me. The admissions officers and staff organized the event very well. When I arrived, I noticed that the campus was very peaceful and clean. I was able to meet and talk with many of the Midshipmen, who were well spoken, confident, and very informative in answering all of my questions. Speaking to the Midshipmen, I gained insight into what a typical day might be like at KP."
"After attending the Open House," Gramegna said, "I was able to envision myself as a Midshipman.  I look forward to attending KP, becoming a Marine Engineer, and serving my country thereafter."
"During the event our guest expressed specific interest in gaining further knowledge on Financial Aid, Health Services and Sea Year," said Assistant Director of Admissions & Financial Aid Lt. Cmdr. Keith L. Watson, USMS. "The Academy team as a whole worked together to ensure that this event was a success, and we are grateful to all who supported this event."
By Cmdr. Benjamin Benson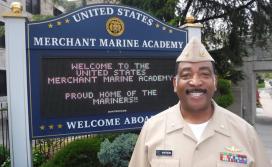 Assistant Director of Admissions & Financial Aid Lt. Cmdr. Keith L. Watson, USMS
Last updated: Tuesday, April 26, 2016