USMMA to Host 42nd Festival of Lights
KINGS POINT, N.Y., December 10, 2019 - The U.S. Merchant Marine Academy invites our friends and neighbors to the annual Festival of Lights at Mariners' Memorial Chapel. The Festival of Lights has been an annual tradition at USMMA for the past 42 years.  Please join us as we welcome the holiday season.
Place:  USMMA Mariners' Memorial Chapel, 300 Steamboat Road, Kings Point, N.Y.
Date:   Tuesday, December 17, 2019
Time:   7 p.m.
For anyone requiring accessibility information, please email:externalaffairs@usmma.edu.
Seating is limited, so guests are encouraged to arrive early
About USMMA.
The U.S. Merchant Marine Academy, located in Kings Point, N.Y, educates and graduates leaders of exemplary character who are inspired to serve the national security, marine transportation, and economic needs of the United States as licensed Merchant Marine Officers and commissioned officers in the Armed Forces. This year marks the 75th anniversary of the Merchant Marine Academy. The Academy, which was established under the Merchant Marine Act of 1936, was dedicated as the United States Merchant Marine Academy in 1943 by President Franklin D. Roosevelt. It is administered by the Maritime Administration under the auspices of the Department of Transportation.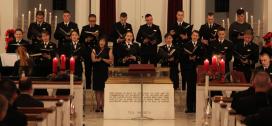 Last updated: Tuesday, December 10, 2019