Dr. Joshua M. Smith
Associate Professor, Humanities
Year Started
2003
Education
Ph.D. US and Canadian History University of Maine
MA Maritime History & Underwater Archaeology East Carolina University
AS Maine Maritime Academy
MA History University of St. Andrews
Teaching Interests
Maritime History
Naval History
Research Interests
Maritime and Naval History
Public History
War of 1812
Biography
Dr. Joshua M. Smith grew up in the United States on Cape Cod and coastal Maine. He holds degrees from the University of St. Andrews in Scotland, Maine Maritime Academy, East Carolina University, and the University of Maine.
He is author of Borderland Smuggling: Patriots, Loyalists, and Illicit Trade in the Northeast, 1783-1820, which explores smuggling on the Maine-New Brunswick border and won the John Lyman Award in American Maritime History in 2007. In 2009 he published Blockhouse and Battery: A History of Fort Edgecomb as part of that historic site's bicentennial, and Battle for the Bay: The Naval War of 1812, which explores dimension of maritime warfare off New England's coast.
He has also edited a two volume collection of documents in American maritime history in conjunction with the National Maritime Historical Society entitled Voyages. He currently is an associate professor of humanities and Interim Coordinator of the American Merchant Marine Museum at the United States Merchant Marine Academy, in Kings Point, New York as well as serving as Department Head of the Humanities Department until September, 2015. Professor Smith lives in Port Washington, NY with his wife and daughter.
Dr. Joshua M. Smith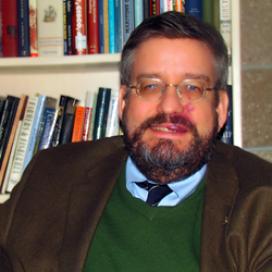 Last updated: Friday, September 4, 2015