Our Collection
About the Collection
 
A substantial range of ship models of all sizes spanning through and representing decades of maritime history.
A superb collection of historic and modern navigational tools, such as sextants, barometers in the Carroll Bjornson Navigation Instrument Room.
A Japanese sword surrendered by Vice Admiral Matomu Ugaki to Supreme Allied Commander and General of the Army Douglas MacArthur on October 18, 1945. General MacArthur bestowed the sword and sheath (one of only five in existence) to the United States Merchant Marine Academy "as a memento to the valiant service rendered by the sons of the Academy in our struggle in the Pacific."
Collection of china from shipping companies around the world.
The "142 Gallery" dedicated to the 142 U.S Merchant Marine Academy cadets lost in enemy action during World War II.
Historic and modern maritime artwork.
Some images of Collection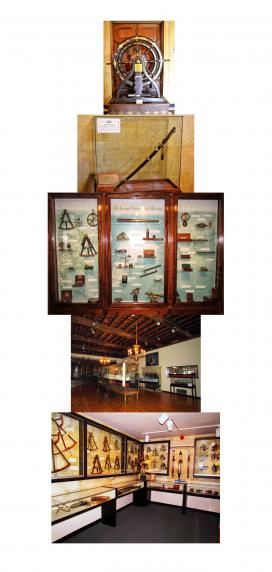 Last updated: Tuesday, February 4, 2014