Alumni and Girl Scouts Join Midshipmen for Change of Command Parade
KINGS POINT, N.Y., May 2, 2016 – Guest of Honor David Nazzaro, Class of 1962, joined Superintendent Rear Adm. James A. Helis, USMS, and Commandant Capt. David B. Sosa, USMS, for a Change of Command Parade at the United States Merchant Marine Academy (USMMA), Kings Point, N.Y., Friday.
The parade coincided with the USMMA Alumni Association and Foundation, Inc., Flying Bridge Day.  Following the parade, Nassau County Girl Scouts, who attended, handed boxes of cookies to the midshipmen as part of their Operation Cookie Local Send-Offs.
In the ceremony, the Class of 2017 took over responsibility for the daily operation of the Regiment, as the Class of 2016 prepares for license exams.
Photo by Midshipman 1st Class Shawn Wehking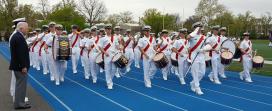 Last updated: Monday, May 2, 2016