Building Blocks of Prevention – Sexual Assault Awareness Month at USMMA
KINGS POINT, NY – Apr. 29, 2016 – The U.S. Merchant Marine Academy (USMMA) at Kings Point, N.Y., joined college campuses across the county to support this year's national Sexual Assault Awareness Month (SAAM) campaign entitled "Prevention is Possible."
Sexual Assault Response Coordinator Tamara Jell, the Midshipmen Human Relations Officers and the Academy's Regimental Sexual Assault Victim Advocates coordinated a USMMA's campaign with a full schedule of events including student and faculty presentations, displays, informational programs and guest speakers. Jell said the campaign focused on "building blocks of prevention by communicating how individuals, the Regiment, and the Academic departments can take action to promote safety, respect, and equality."
"This year's campaign reminded us that we all need to work together to create a safe, secure and respectful campus, free from sexual assault, sexual harassment and the behaviors that enable it," said Superintendent Rear Adm. James A. Helis, USMS. "It's on us to ensure that our campus provides security, respects the dignity of every midshipman and member of the faculty and staff!"
The rollout of the Academy's Victim Advocate (VA) Program was a highlight of the month.  The five volunteer trained VA's are a new integral part of Academy's sexual assault prevention program, and provide students additional resources for restricted (confidential) reporting.
New VA Lt. Cmdr. Paul Acquaro noted that serving as a VA "is an opportunity to work alongside a dedicated group of professionals at the Academy in order to tackle an area critical to the well-being and success of our students. My colleagues have spent the better part of the year under the tutelage of Ms. Jell so that the USMMA community can be active in both the prevention of sexual assault and support for those who may unfortunately fall victim to it."
The new VA's are:
Dr. Yvonne Traynham, (516) 726-5727, TraynhamY@USMMA.EDU
Coach Kyle Simensky, (516) 726-5255, SimenskyK@USMMA.EDU
Dr. Jennifer Speelman, (516) 726-6001, SpeelmanJ@USMMA.EDU
Lt. Cmdr. Paul Acquaro, (516) 726-5961, AcquaroP@USMMA.EDU
Lt. Victoria Millar, (516) 726-6102, Victoria.Millar@USMMA.EDU
"I am so impressed that Tamara has brought together so many great events, and feel that there has been a definite shift in KP 'culture,' even in a short time," said new VA Traynham. "The faculty and midshipmen tackled difficult topics in their presentations.  As I was leaving the sessions, the midshipmen who attended had very positive comments and open discussion. In particular, Midshipman 1st Class David Gregory's presentation was profound."
Gregory's presentation, "A Course Through Oceans Deep," provided his reflections about prostitution, industry and personal accountability. "My intention was that this presentation could somehow get a ball rolling on making positive change."
Under the title "Forward into the 21st century: Women in the U.S. Merchant Marine" Capt. Adam Donohoe, USMS, led a discussion with midshipmen, faculty and staff, on women in the Merchant Marine (past, present, and future). Capt. Ann Sanborn, USMS, provided insights from her career. "I think the most important point that was made was that the single most important factor in avoiding problems with sexual harassment is the Captain.  The Captains who have clear standards for professionalism have fewer problems with harassment or any other forms of unprofessional behavior.  The key is the expectation for respect."
SAAM is just one of the many activities managed by USMMA's Sexual Assault Prevention and Response (SAPR) Program. The Program provides effective progressive prevention training, accountability of incidents, and a robust victim advocacy system.  It fosters an overall climate of confidence for victims to report incidents of sexual assault 24/7.  The SAPR Program is committed to its ultimate goal of preventing sexual assault from occurring.  This commitment includes timely support, through a caring victim advocacy program, that treats victims with the utmost dignity and respect.
By Cmdr. Benjamin Benson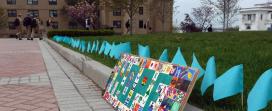 The Midshipmen Human Relations Officers' Sexual Assault Awareness Month Display on Barney Square
Hotline
516-426-3207
Last updated: Thursday, March 7, 2019