USPACOM Commander: "Our National Security Depends on a Vital Merchant Marine" – 2016 Battle Standard Dinner
KINGS POINT, N.Y., April 13, 2016 – The Commander of U.S. Pacific Command (USPACOM) addressed the Class of 2016 at the United States Merchant Marine Academy's (USMMA) 28th Battle Standard Dinner, Monday.
Adm. Harry B. Harris, Jr. was the guest speaker at the 2016 Battle Standard Dinner, an annual USMMA event honoring the memories of the 142 Cadet-Midshipmen who lost their lives during World War II. The event also honored recent graduates who lost their lives serving in support of Operation Iraqi Freedom and Operation Enduring Freedom.
"It was a great honor to host Adm. Harris at this important event that highlights the vital role of the Academy and our graduates in peace and war," said Superintendent Rear Admiral James A. Helis, USMS.  "USPACOM's enormous area of responsibility, encompassing about half the earth's surface, shows how essential Merchant Marine officers are for a vital maritime industry and strong flexible national defense."
"Today in the Indo-Asia-Pacific I see first-hand accounts of what our maritime professionals do and I'm impressed.  Keeping oceans open to trade during peacetime and supporting military operations during contingencies and war are hard work ... but juice worth the squeeze," said Harris. "Our national security depends on a vital Merchant Marine.  Ask any officer from any of the Services who has had the opportunity to serve on a Joint Task Force in the myriad of hot spots around the globe ... just ask any of them if the U.S. Merchant Marine is important to their operations.  You will not only get a 'yes' ... but a resounding 'yes-and-can-we-have-more!'"
"Tonight has given the class of 2016 some great examples of those who have served before us, to look up to as we start our careers," said Midshipman 1st Class Breanna Linsely.  Similarly, Midshipman 1st Class Martin J. Craig said, "it was inspiring to understand the importance of the career paths each and every one of my classmates takes to serve this country."
Midshipman 1st Class Mary Huelbig summed up the evening, "the Admiral's speech was very well done and inspiring, much like the rest of the dinner!"
USMMA is privileged among the nation's five federal academies to be the only institution authorized to carry a battle standard as part of its Color Guard.  The nine ribbons attached to the top of the Standard represent the service ribbon bars earned by members of the Regiment during World War II, The Korean War, The Vietnam War, and the Persian Gulf War.
By Cmdr. Benjamin Benson, USMS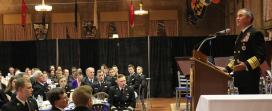 Photo by Midshipman 1st Class Shawn Wehking
Last updated: Tuesday, April 12, 2016