USMMA Welcomes USCG and International Maritime Officers
KINGS POINT, N.Y., November 22, 2013 — On Tuesday, the United States Merchant Marine Academy welcomed Captain Reed A. Stephenson, Commanding Officer of the United States Coast Guard (USCG) Training Center Yorktown and 38 international maritime officers representing 26 countries.  Captain Stephenson, a graduate of USMMA, was joined by Mr. Robert Holt, International Training Division Officer, and instructors from the International Maritime Officers School in Yorktown, VA.
"It was an honor to welcome the USCG and international maritime officers to our campus," said Captain George Edenfield, Head of the Department of Marine Transportation.  "These tours provide an exciting opportunity for networking and strengthening maritime education and training and provides added value to our programs. We are glad we could share our expertise in areas such as maritime simulation and maritime security."
After a tour of the Academy, the group attended a demonstration exercise of the Full Mission Bridge Simulator by Captain David Moskoff, Professor of Marine Transportation and Instructor of the Deck Program's capstone course: Bridge Resource Management (BRM).  The course is taken by the Academy's senior midshipmen at USMMA's Computer-Aided Operational Research Facility (CAORF).
The exercise allowed the officers and their instructors to see the state-of–the art training midshipmen receive in the Academy's several simulation facilities.  BRM requires numerous prerequisite courses and draws on the experience midshipmen gain as cadets from their year spent at sea aboard commercial and military vessel.  Captain Moskoff explained advantages of [simulator] experiential learning stating, "Studies have shown that when students are tasked with performing under simulation, about 80 percent of that learning is retained."  CAORF Program Manager, Marilyn Hetsel helped make the exercise even more interesting by demonstrating changes in weather, daylight, sea conditions, sound signals, tides, and traffic to the visiting group.
Later, the group attended a presentation by Captain Jon Helmick, Director of the USMMA Maritime Logistics & Security Program. Captain Helmick focused on USMMA's leadership role in the development of national and international maritime security training standards and related issues.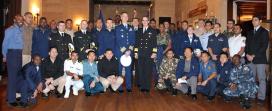 Last updated: Tuesday, November 26, 2013