USMMA Superintendent to Serve as Grand Marshal of the Little Neck–Douglaston Memorial Day Parade
USMMA Regimental Band, Color Guard, and Midshipmen to March
KINGS POINT, N.Y., May 20, 2023 – On Monday, May 29th, Vice Admiral Joanna M. Nunan, Superintendent will serve as Grand Marshal of the Little Neck–Douglaston Memorial Day Parade. She will be joined by the USMMA Regimental Band "George M. Cohan's Own," the Color Guard, and four hundred members of the Regiment of Midshipmen.
The parade which is one of the largest and oldest in the Nation, is a yearly tradition since 1927. Mr. Tom Carty, an Army Veteran and Parade Chair, said, "We are honored to have Vice Admiral Nunan as Grand Marshal of this year's Parade. We are grateful for her many years of service in the United States Coast Guard and as 14th Superintendent of the United States Merchant Marine Academy."
The parade steps off at 2:00 p.m. from Jayson Avenue in Little Neck and continues West along Northern Boulevard until reaching 245th Street in Douglaston.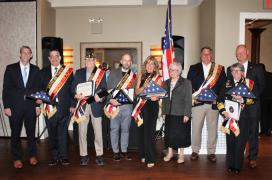 Last updated: Saturday, May 20, 2023