USMMA Coronavirus Update #11 - Message from the Superintendent - Men's Basketball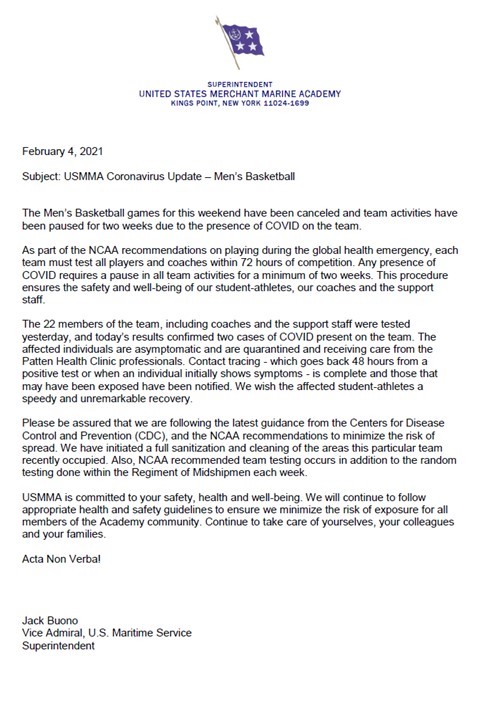 KINGS POINT, N.Y. (February 4, 2021) – The Men's Basketball games for this weekend have been canceled and team activities have been paused for two weeks due to the presence of COVID on the team.
As part of the NCAA recommendations on playing during the global health emergency, each team must test all players and coaches within 72 hours of competition. Any presence of COVID requires a pause in all team activities for a minimum of two weeks. This procedure ensures the safety and well-being of our student-athletes, our coaches and the support staff.
The 22 members of the team, including coaches and the support staff, were tested yesterday and today's results confirmed two cases of COVID present on the team. The affected individuals are asymptomatic and are quarantined and receiving care from the Patten Health Clinic professionals. Contact tracing - which goes back 48 hours from a positive test or when an individual initially shows symptoms - is complete and those that may have been exposed have been notified. We wish the affected student-athletes a speedy and unremarkable recovery.
Please be assured that we are following the latest guidance from the Centers for Disease Control and Prevention (CDC), and the NCAA recommendations to minimize the risk of spread. We have initiated a full sanitization and cleaning of the areas this particular team recently occupied. Also, NCAA recommended team testing occurs in addition to the random testing done within the Regiment of Midshipmen each week.
USMMA is committed to your safety, health and well-being. We will continue to follow appropriate health and safety guidelines to ensure we minimize the risk of exposure for all members of the Academy community. Continue to take care of yourselves, your colleagues and your families.
Acta Non Verba!
/Original Signed/
Jack Buono
Vice Admiral, U.S. Maritime Service
Superintendent
DOT is committed to ensuring that information is available in appropriate alternative formats to meet the requirements of persons who have a disability. If you require an alternative version of files provided on this page, please contact ExternalAffairs@USMMA.edu.
Last updated: Friday, February 5, 2021