USMMA Class of 2023 Officially Recognized as Midshipmen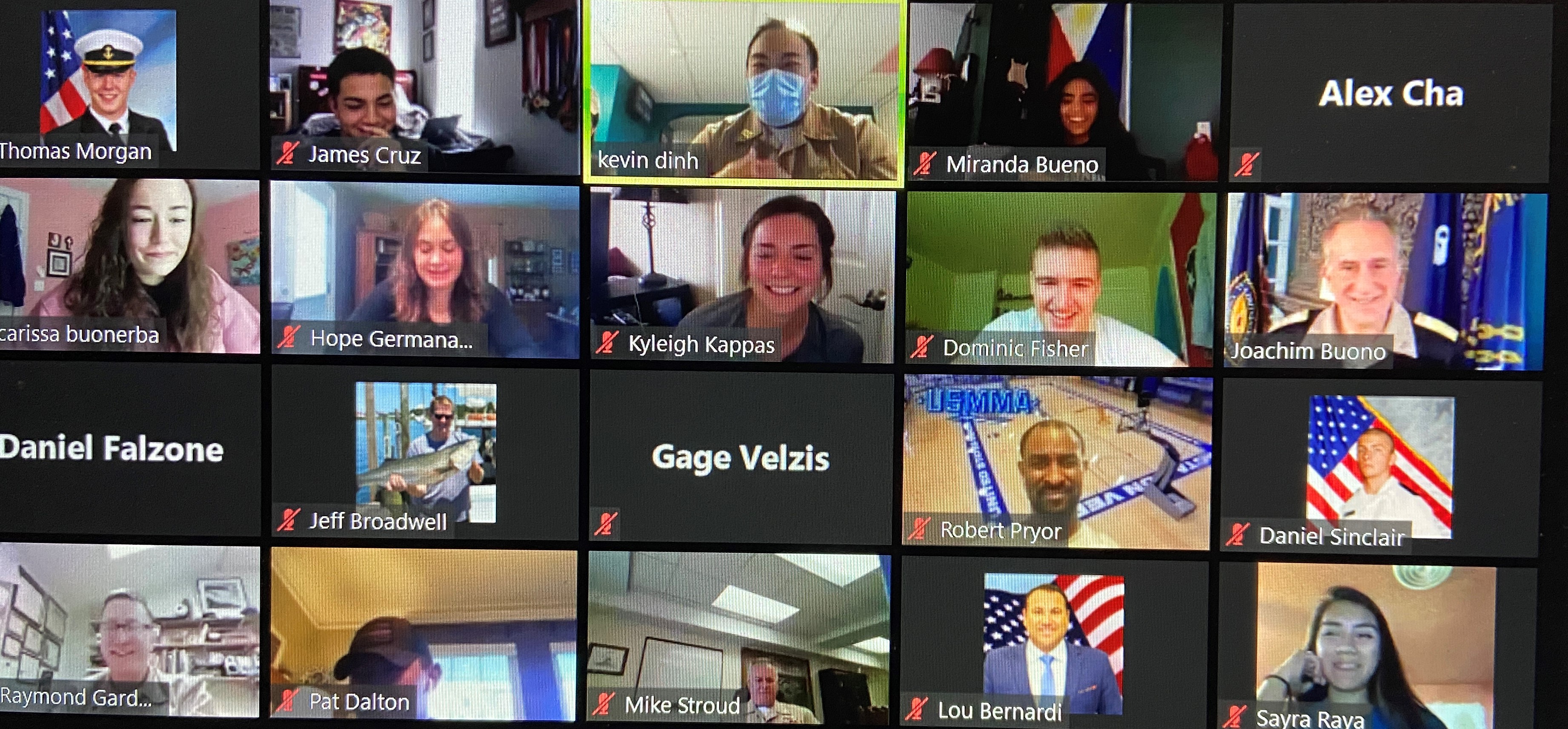 KINGS POINT, N.Y. (April 24, 2020) – Captain Mike Stroud, Commandant of Midshipmen at the United States Merchant Marine Academy (USMMA), along with Midshipman Regimental Commander, Kyleigh Kappas, officially recognized the 265 members of the Class of 2023 today. In the first virtual recognition ceremony in the history of USMMA, the members of the Class of 2023 were formally recognized as Fourth Class members of the Regiment of Midshipmen.
In an afternoon video conference, the Plebe Class heard congratulations from the Midshipmen Regimental Training staff, the Commandant of Midshipmen and USMMA Superintendent Rear Admiral Jack Buono, before they were presented with a congratulatory video (click here to view) officially recognizing them as Fourth Class Midshipmen.
Recognition is a time-honored tradition at USMMA, and is a most important event for the Plebe class. Under normal circumstances, Plebes are recognized sometime during the Spring Trimester, based on upper-class assessment of their overall performance as a class. The recognition ceremony is a much-anticipated rite of passage and is marked by a final session of physical training. Once complete, the Plebes are elevated to Fourth Class Midshipmen and their privileges change to reflect their newly attained status. Things were a bit different this year, as the class was recognized virtually for the first time ever.
The first year journey at USMMA can be an arduous one that challenges even the best of the best. During the year, new students progress from applicants, to Plebe Candidates, to Plebes, and finally to Fourth Class. The Plebe year is the first step in the four-year leader development experience at USMMA. It is stressful and difficult, but it prepares the Plebes for the next three, and for their future billets as professional Mariners.
Regimental Training Officer Assistant, Carissa Buonerba, 1/c, who was responsible to mentor and motivate the class, watched closely as they progressed and evolved from a group of individuals to a cohesive and unified class. "The training staff challenged the Class of 2023. We told them we wouldn't recognize them until we saw class unity, and they have done an excellent job coming together," said Buonerba. "They are an extraordinary group of people."
####
ABOUT USMMA
The U.S. Merchant Marine Academy, located in Kings Point, N.Y, educates and graduates leaders of exemplary character who are inspired to serve the national security, marine transportation, and economic needs of the United States as licensed Merchant Marine Officers and commissioned officers in the Armed Forces. President Franklin D. Roosevelt dedicated the Academy, which was established under the Merchant Marine Act of 1936, as the United States Merchant Marine Academy in 1943. It is administered by the Maritime Administration under the auspices of the Department of Transportation.
On the web: U.S. Merchant Marine Academy
On Facebook: @USMMAOfficial
On Twitter: @USMMAo
Last updated: Friday, April 24, 2020