USMMA Class of 2020 Bell-Ringing and Commencement to be Livestreamed
KINGS POINT, N.Y., June 17, 2020 - The United States Merchant Marine Academy's (USMMA) Class of 2020 will ring the bell at Powell Oval after passing U.S. Coast Guard license exams, tomorrow Thursday, June 18th. This event will be streamed on Facebook Live once the results are announced, but does not have a firm start time. Streaming will begin at 3:00 p.m. EDT.
USMMA's first-ever semi-virtual graduation celebrations will also be streamed on Facebook Live and YouTube, on Saturday, June 20th. The event will begin with celebratory video messages from surprise guests starting at 8:30 a.m. The live program will begin at 9:00 a.m.
Both events are closed to the public, but all are welcome to participate virtually. Please like and share our Facebook page:  U.S. Merchant Marine Academy - USMMA and enable notifications. You will not need a Facebook account to access the page.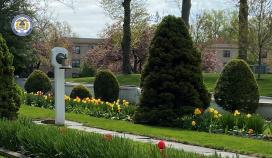 Last updated: Wednesday, June 17, 2020