USMMA Celebrates 78th Birthday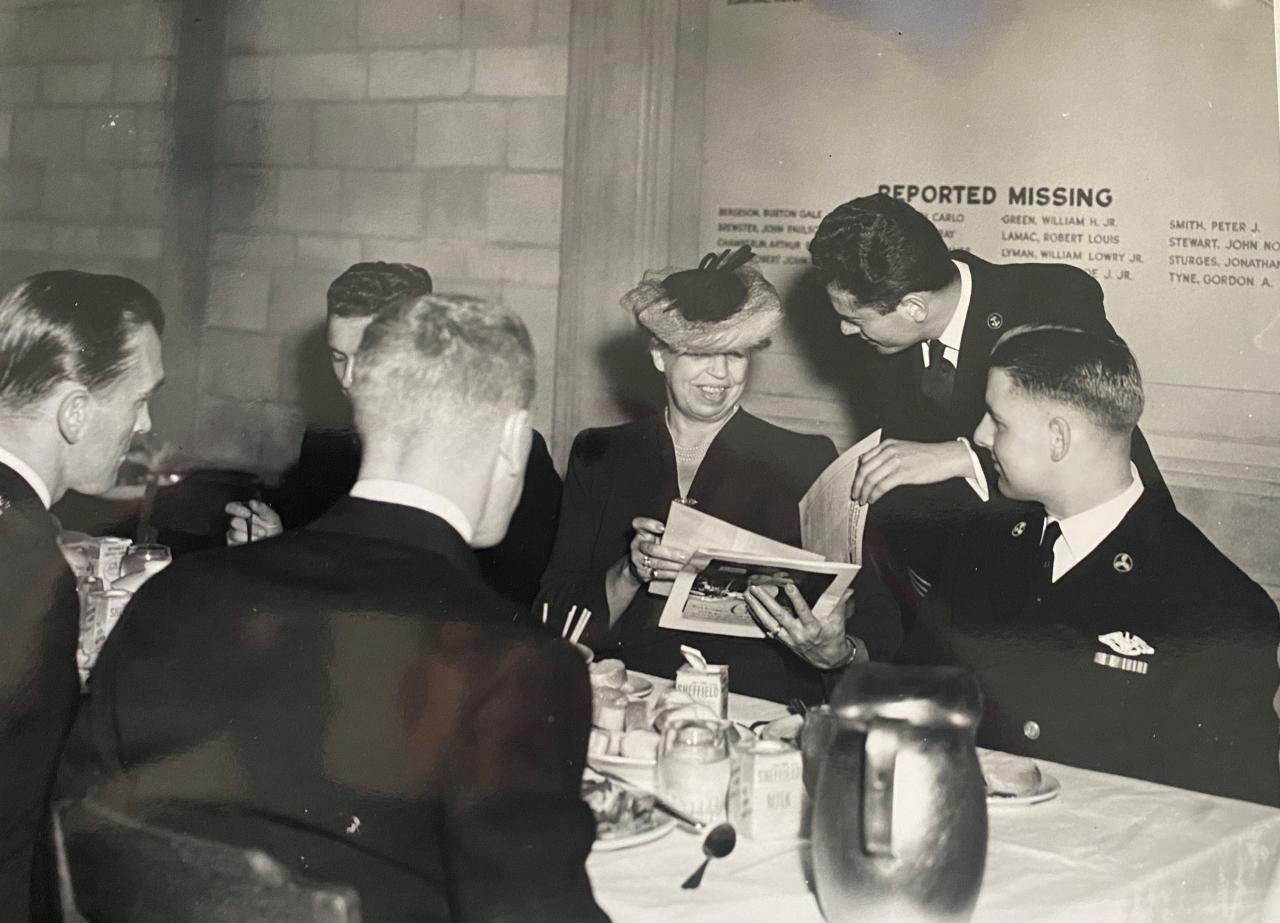 Former First Lady, Eleanor Roosevelt dines in Delano Hall with USMMA midshipmen, circa 1943.
KINGS POINT, N.Y., Sept. 30, 2021 - The United States Merchant Marine Academy (USMMA) observes 78 years of service today.
In a 1943 letter to the U.S. Maritime Commission Chairman, Rear Admiral Emory Land, President Franklin Roosevelt wrote these words about the dedication of the U.S. Merchant Marine Academy at Kings Point, Long Island, New York:
"This Academy serves the Merchant Marine as West Point serves the Army and Annapolis serves the Navy. We have the largest fleet of merchant vessels in our history. They are the finest ships on the seven seas. Our shipbuilders have become virtual miracle men. They are adding more than five new ships a day to our ocean-going merchant armada. War has proved to the American people that a strong Merchant Marine, manned by courageous, capable, well-trained officers and crews, is as necessary to the Nation as a powerful Army and Navy."
And with those words, on Sept. 30, 1943, the U.S. Merchant Marine Academy was officially dedicated.
We wish the Academy a very happy birthday, and our graduates - past and future - fair winds and following seas as we celebrate 78-years of continual service to the economic and national security prosperity of America.
####
ABOUT USMMA
The U.S. Merchant Marine Academy, located in Kings Point, N.Y, educates and graduates leaders of exemplary character who are inspired to serve the national security, marine transportation, and economic needs of the United States as licensed Merchant Marine Officers and commissioned officers in the Armed Forces. President Franklin D. Roosevelt dedicated the Academy, which was established under the Merchant Marine Act of 1936, as the United States Merchant Marine Academy in 1943. It is administered by the Maritime Administration under the auspices of the Department of Transportation.
Last updated: Thursday, September 30, 2021