USMMA Announces Academic Awards for Class of 2020
KINGS POINT, N.Y., June 18, 2020 – Today, United States Merchant Marine Academy (USMMA) Academic Dean and Provost, John R. Ballard, PhD, announced the list of academic award recipients of the Class of 2020.
Fifty-one midshipmen received over 100 awards in recognition of their academic achievements, athletic accomplishments and exemplary service to the Regiment of Midshipmen, the community and the Nation. Three midshipmen were also recognized for their Kings Point Scholar Projects. These projects are the successful culmination of many hours of research on a topic outside the required curriculum. The Kings Point Scholars, who presented their projects to an audience of faculty, family, friends and midshipmen, via Zoom, were; Tanner Carter for his paper "Motivated by Power, Led by Fear. Denuclearizing the Korean Peninsula," Robert Gaines, for "Senior Military Leadership in the Modern Age: Mitigating Battlespace Complexity Through Mission Command," and Filipa Martinovic for her paper: "Computational Fluid Dynamics in Real-World Applications: Heat Exchangers."
Under normal circumstances, the annual Awards Convocation would have been held in Ackerman Auditorium as part of Kings Point Weekend festivities, culminating with commencement exercises on Saturday. However, due to current public health guidelines, the Academy will celebrate graduation in a semi-virtual format and livestream over Facebook and YouTube.
In addition to midshipmen awards, two members of the faculty chosen by the Class of 2020, received awards for distinguished teaching and leadership. CAPT David Palmer, '91, PhD, a Professor in the Engineering Department, received the Sue Alice McNulty Award Service Award for Distinguished Teaching. Palmer was singled out as the Professor "who has contributed most to their education during their four years at the Academy." Finally, CAPT Charles Rogan, '78, an Associate Professor in the Marine Transportation Department, received the VADM Gordon McLintock Award for Exemplary Leadership.
"It is an honor to recognize our midshipmen, faculty and staff," said Dr. Ballard. "We are truly proud of their outstanding academic, athletic and personal accomplishments."
Click to view the Academic Awards Program which is hosted on the USMMA Alumni Foundation webpage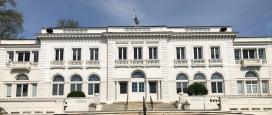 Last updated: Thursday, June 18, 2020