U.S. Merchant Marine Academy Named One of Our Nation's "Best Value Colleges"
KINGS POINT, N.Y., January 29, 2014 - The Princeton Review yesterday released its annual list of the nation's "Best Value Colleges". The United States Merchant Marine Academy (USMMA) is one of 75 public colleges that have received this honor.  USMMA has been on the Princeton Review's list of "Best Value Colleges" every year since the project began in 2004. The 2014 list names 150 colleges – 75 public and 75 private – the education services company identifies as "Best Values" based on its surveys of 2,000 undergraduate institutions in 2012-13 concerning their academics, cost and financial aid awards.
"We are very proud to be included in this year's list of 'Best Value Colleges'," said Rear Admiral James A. Helis, Ph.D. , Superintendent. "Each midshipman at USMMA receives a tuition-free world-class education, but the true value is shared with the people of the United States in each graduate's service to our nation."
Upon graduation, midshipmen receive a Bachelor of Science Degree, an Officer's Commission in the U.S. Military and a United States Coast Guard Merchant Marine Officer License which ensures a steady stream of U.S. merchant marine officers to support the nation's economic and security interests. In exchange for their education, Kings Point graduates serve five years on active-duty in the U.S. military or work in the maritime industry for five years, with an eight year commission in any branch of the reserves.
The Princeton Review's "Best Value Colleges" list appears in two free online resources as well as its companion book, released yesterday. The company posted its list with profiles of the schools at 2014 Princeton Review's Best Value Colleges.  The link to USMMA's profile can be found by clicking USMMA Princeton Review Profile.
The U.S. Merchant Marine Academy, located in Kings Point, N.Y., educates and graduates merchant mariners and leaders of exemplary character who will serve America's maritime transportation and defense needs in peace and war. The U.S. Merchant Marine Academy is administered by the Maritime Administration under the auspices of the Department of Transportation.
On the web: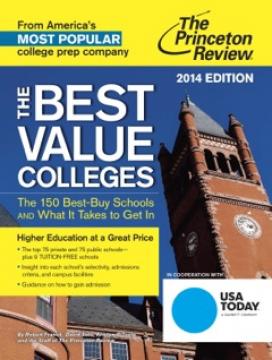 Last updated: Wednesday, January 29, 2014