Secretaries' Cup to Be Live Streamed on ESPN3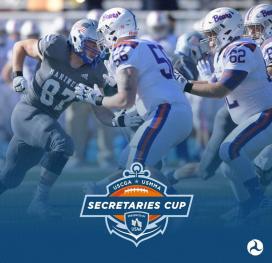 KINGS POINT, N.Y., November 10, 2022 - The 42nd annual Secretaries' Cup will take place this Saturday, November 12th at 12:00 EST!
 The Secretaries' Cup is an annual college football game between rival schools, the U.S. Merchant Marine Academy (USMMA) and the U.S. Coast Guard Academy (USCGA). Each year, the game location alternates between USCGA Cadet Memorial Field in New London, Connecticut and USMMA's Captain Tomb Field in Kings Point, New York.
This year, USMMA's Mariners will serve as the home team. The event will be live streamed on ESPN 3. If you can't be at the game, click here to watch: 42nd Annual Secretaries' Cup
###
Last updated: Thursday, November 10, 2022