Secretaries' Cup to Be Live-Streamed on ESPN3
KINGS POINT, N.Y., November 15, 2019 – The Secretaries' Cup Football Game between the U.S. Merchant Marine Academy and U.S Coast Guard Academy, at USCGA. will be featured live on Saturday, November 16th, at noon ET on ESPN3.
For fans who wish to watch the rivalry game, click the link above to access the ESPN schedule and select the Secretaries' Cup game. This will allow you to view the game on a computer or a smart device.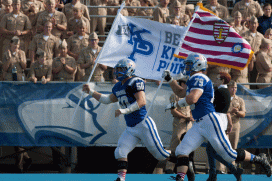 Last updated: Monday, November 18, 2019