Sea Fair 2022 Demonstrates Industry Demand for Kings Point Graduates
KINGS POINT, N.Y., September 21, 2022 -Today, maritime professionals and hiring managers from 40 companies, federal agencies, and maritime-related organizations participated in the United States Merchant Marine Academy's (USMMA) annual career fair, known as Sea Fair, held in O'Hara Hall.
Company representatives expressed a strong desire to hire USMMA graduates. Mr. Andy Bouchot, representing Puget Sound Naval Shipyard Naval Sea Systems Command (NAVSEA), said, "NAVSEA is very interested in hiring Kings Point graduates because they are well-qualified and prepared to contribute to NAVSEA's success."
The entire Regiment of Midshipmen was invited to participate in the event, which was coordinated by the Department of Professional Development and Career Services under the direction of Captain Ian Jones. Those who attended were also introduced to the many opportunities for military, federal and maritime service.
The Academy maintains near 100 percent job placement annually. Rear Admiral John Ballard, Ph.D, Academic Dean and Provost, was extremely pleased by the number of participants offering obligation-fulfilling employment. "USMMA is pleased to have so many representatives of the maritime industry and U.S. military on campus to recruit our students and provide them the opportunity to serve the marine transportation and defense needs of our great Nation,' said Ballard."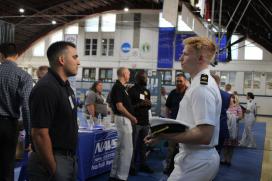 Last updated: Wednesday, September 21, 2022