Schnatz Named Head of Physical Education & Athletics at USMMA
KINGS POINT, N.Y. (Aug. 19, 2019) – Superintendent, RADM Jack Buono, and Academic Dean and Provost, Dr. John Ballard, announced Kristofer Schnatz as the new Head of the Department of Physical Education and Athletics at the U.S. Merchant Marine Academy (USMMA) today. Schnatz will begin his tenure at Kings Point on Monday, Aug. 19.
"Mr. Schnatz brings unique experience to this position," said Buono. "With twenty years of experience in coaching and athletics administration, the maritime industry, and physical education management, along with recent experience in a collegiate regimental environment, Mr. Schnatz brings an ideal skillset to Kings Point. His rare combination of qualifications and his commendable background in both the maritime industry and collegiate athletics make him a superb selection."
Schnatz joins USMMA from fellow Skyline Conference institution, SUNY Maritime College, where he spent the past two-plus years as the Director of Athletics, overseeing the Privateers' 16 varsity programs and more than 400 student-athletes. He was additionally responsible for the intramural and club sports programs at the Bronx campus.
"I want to thank RADM Buono, Dr. Ballard and the entire search committee for the opportunity to serve as the Director of Physical Education and Athletics for USMMA," said Schnatz. "The Mariners' Athletic Program is one of the elite NCAA Division III programs in the country and I look forward to working closely with our faculty, staff, coaches, student-athletes and alumni. There is a rich history of athletic tradition and success at Kings Point and I am honored and excited to join the Mariners program."
Prior to his time at SUNY Maritime, Schnatz worked at Indiana University (IU) Northwest in Gary, Ind., where he served as Executive Director of Athletics from Oct. 2012 through Nov. 2016. While there, Schnatz managed the expansion of the department from three teams to seven and was a driving force behind many of the improvements to game day operations and the IU Northwest Fitness Center strength and conditioning facilities. He was also responsible for overseeing the academic eligibility and compliance of the department's student-athlete population, which included implementing academic improvement programs leading to a department all-time high, 3.10 grade point average through the spring 2016 semester.
In addition to his administrative duties, Schnatz served as the head basketball coach for the RedHawks and led the team to 23 wins in his two seasons at the helm. As head coach, he helped improve the team's academic performance and retention while developing all other phases of the program.
"Mr. Schnatz is very familiar with the NCAA Division III programs on a similar campus, knows the Skyline Athletic Conference leadership responsibilities quite well, and has experience in overseeing a program extremely well-scoped to our needs," said Ballard. "In addition, he has first-hand knowledge of preparing for and passing the USCG Merchant Mariners' License exam, and has served with distinction in the maritime industry, which gives him an exceptionally valuable perspective on the demands placed on our Midshipmen athletes while at the Academy, and after they graduate."
Schnatz earned his bachelor's degree in marine transportation from SUNY Maritime College in Jan. 1999. He went on to earn a master's degree in sports administration from Valparaiso University in Aug. 2005.
Upon graduating from SUNY Maritime College, Schnatz began working as a marine analyst for the National Imaging & Mapping Agency in Maryland. While there, he wrote for the Notice to Mariners Branch of the Marine Navigation Department, specializing in military and commercial transportation.
As a Mariner, Schnatz used his marine transportation degree as an operations manager and master with the Blue Chip Casino, Hotel and Spa in Michigan City, Ind. In his nearly 11 years at Blue Chip, he managed the marine, maintenance, housekeeping and facility crews aboard the vessel, and annually developed and executed a $6 million departmental operating budget.
Schnatz will reside in Kings Point, N.Y., with his wife, Kristen, and three daughters, Lia, Taylor and Aybriel.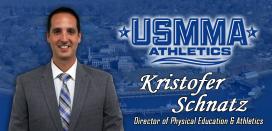 Last updated: Monday, August 19, 2019