Reaching Out While Staying In
Midshipman Taylor Crisci Launches Project Service Sister
KINGS POINT, N.Y. (April, 17, 2020) - First Class Midshipman Taylor Crisci is busy. Just like her classmates, she is taking classes online, and preparing for USCG License Exams and graduation from the United States Merchant Marine Academy (USMMA). Taylor, however, has been even busier since starting "Project Service Sister" – a personal mission to support women who serve.
Making the most of her time at home in Westchester, NY, due to social distancing measures meant to halt the spread of COVID-19, Taylor has been preparing and sending care packages to "service sisters," currently serving in the U.S. Military, Merchant Marine, National Oceanic and Atmospheric Administration (NOAA) Corps, Public Health Service Commissioned Corps, and various emergency services. 
Taylor explained how "Project Service Sister" began: "a few months ago, when I listened to a podcast interview with Cat Golden – a nurse sending care packages and creating a community for nurses – I was so inspired by her confidence to start something new. Afterwards, I did research to see if there was a similar platform for women in the military and uniform services, and was shocked that there was none. When online classes began, I was feeling a little down. All I was doing was schoolwork, sleeping, and thinking about the Class of 2020 having to miss out on the Senior traditions we had been looking forward to for the past three years. Like a ton of bricks, I realized something: if I don't spend this time doing the 'thing' I want to do, then it was never about the lack of time, but the lack of discipline. So, I went to the store, made a Facebook post asking friends to nominate servicewomen, and created my first box."
So far, Taylor, who hopes to serve in the NOAA Corps after graduation, has already sent 20 care packages. Each colorfully wrapped package contains three or more beauty products, a wellness product, a decorative item, a practical or fun item like a tote or coloring book, and a hand-written "Thank-You" note. "Instead of the classic 'deodorant and shampoo,'" Taylor said, "I would like these boxes to serve as reminders to treat yourself, take care of yourself, and remember that you are worthy and perfect as you are."
Taylor hopes that someday this project will grow into an official non-profit with a website and online community that offers friendship, mentorship, and live events. For now, she is focusing on sending care packages. She invites anyone who wishes to nominate a "service sister" to contact her through her Project Service Sister Facebook Page.
Midshipman Crisci shared her thoughts to inspire her fellow midshipmen: "Of course midshipmen are disappointed by all of the traditions that we are missing out on. The seniors are missing 100 nights, Change of Command, and possibly bell-ringing and a traditional graduation; Plebes are missing out on Recognition activities; Third Classmen have yet to be reunited with their friends after returning from sea; and Second Classmen are missing leadership opportunities to serve as Petty Officers. The one Kings Point tradition we can all continue to carry out during this time is Acta Non Verba - arguably the most important and longest lasting tradition of all at Kings Point. My advice for those who want to help others right now: send your grandparents a card, write motivational quotes for people walking by (in-chalk), or do a sing-along night from your driveway. Right now, helping someone means brightening their day, and reminding them that you care."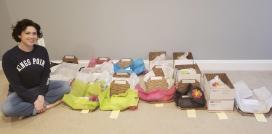 Last updated: Thursday, April 16, 2020