Lt. Boyle and Dr. Furlan Represent USMMA at DOT's 50th Anniversary Celebration of Women's History at the White House
KINGS POINT, NY – Mar. 30, 2016 – Throughout the month of March, as part of their 50th Anniversary the Department of Transportation (DOT) has been highlighting the role of women in transportation at a number of events. On March 15th, women representing each mode at U.S. DOT participated in 50th Anniversary Forum with the White House Council on Women and Girls at the White House.  First Company Tactical Officer, Lt. Fionna Boyle, '07 and Associate Professor of Chemistry, Dr. Ping Furlan represented were the United States Merchant Marine Academy (USMMA) at this exciting event.
"USMMA has demonstrated its commitment to women in transportation since it became the first Federal Service Academy to admit women in 1974. We continue to support DOT's efforts to advance career opportunities for women," said Superintendent Rear Adm. James A. Helis, USMS. "We congratulate Dr. Furlan and Lt. Boyle who were selected for their inspiration and leadership; they are wonderful role models future generations of women in transportation."
"It was a great honor to be invited to the White House," said Furlan.  "It was a wonderful networking experience. I am grateful for the opportunity – especially the opportunity to be inside the White House."
The theme of the forum was "energizing, empowering and engaging women."  Speakers included Deputy Secretary of Transportation, Victor Mendez, Senior Advisor to the President of the United States, Valerie Jarrett, DOT's Deputy Chief of Staff, Rhonda Carter, DOT Deputy Assistant Secretary for Public Engagement, Bryna Helfer, and Director, White House Council on Women and Girls, Jordan Brooks. The participants discussed the White House Council on Women and Girls and DOT's shared commitment to advancing opportunities for women across the transportation industry.
By Veronica Cassidy Barry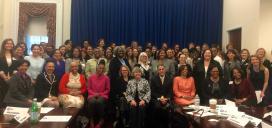 Last updated: Wednesday, March 30, 2016