253 Members of the Class of 2026 Sworn into US Navy Reserve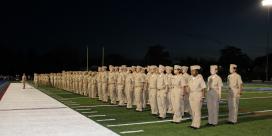 KINGS POINT, N.Y., Sep. 2, 2022 - The U.S. Merchant Marine Academy (USMMA) at Kings Point welcomed the Class of 2026 into the U.S. Navy Reserve (USNR) this evening, during a ceremony on Tomb Field. The Class was sworn in by Capt. Daniel Straub, PhD, U.S. Navy, USMMA's Director of the Department of Naval Science.
The ceremony took place during half-time at the Parents Weekend 2022 football game against Fairleigh-Dickinson University-Florham.
Before administering the oath of a Midshipman in the U.S. Navy Reserve, Straub congratulated the future midshipmen on their progress. Once sworn-in, the plebes joined family members who had the honor of pinning on their USMMA insignia.
 "Today's event marks another significant milestone for the Class of 2026," said Rear Admiral Susan L. Dunlap, Deputy Superintendent (performing the duties of the Superintendent). "It's a great moment in their professional development, and we are very happy so many family members could be present." 
USMMA is the only federal service academy where graduates earn three graduation credentials – a Bachelor of Science Degree, a commission as an officer in the uniformed services of the United States, and a U.S. Coast Guard License as a Third Mate or Third Assistant Engineer.
As part of their service obligation, graduates of USMMA serve five years on active-duty in the military, or sail five years as officers in the U. S. Merchant Marine and eight years in the reserves. USMMA is the single largest commissioning source for USNR Strategic Sealift Officers; ensuring a steady stream of leaders and merchant marine officers to support the Nation's economic and security interests.
###
Last updated: Friday, September 2, 2022