2016 Shipping-Out Fair Indicates Demand For Kings Point Graduates
KINGS POINT, N.Y., April 7, 2016 - The United States Merchant Marine Academy (USMMA) at Kings Point held its annual Shipping-Out Fair for the Class of 2016, yesterday.  The event which was organized by the Department of Professional Development and Career Services, under the direction of Captain Gene Albert, welcomed 27 organizations looking to hire Kings Pointers.
Superintendent, Rear Adm. James A. Helis, USMS, opened the fair and welcomed the participants.  U.S. Maritime Administration Deputy Administrator Michael Rodriguez then thanked the many representatives in attendance and noted "the interest you show by coming to the Shipping-Out Fair is an indication of the value of our graduates to the industry and the Nation."
During the fair, hiring managers discussed opportunities with midshipmen and collected resumes. Mr. Jesse Wentworth, Outreach Program Specialist, for National Oceanic & Atmospheric Administration (NOAA) Marine Operations Center said, "USMMA Graduates are a good fit for NOAA because we have very similar roots and complimentary missions. When they join NOAA they are leaving a premier Academy and continuing their service to the country while making a good living. "
 As part of their service obligation, graduates of USMMA serve as officers in all branches of the military.  Most will serve as reserve officers in the United States Navy while sailing as Licensed Merchant Mariners.  However, each year approximately twenty-five percent accept active duty Commissions as officers in the Navy, Air Force, Army, Coast Guard and United States Marine Corps.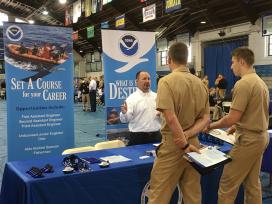 Last updated: Thursday, April 7, 2016